1.Watch for Foul Balls
550 Island Parkway, Belmont, CA 94002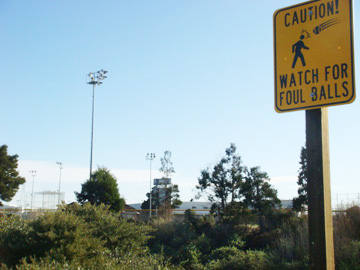 The sign is on the railing of a bike/pedestrian bridge near the baseball field in the Belmont Sports Center. If a foul ball comes flying up there, a ball must be struck quite hard at a crazy angle.
2.Speeding Tickets Available Ahead
3421 East Bayshore Road, Redwood City, CA 94063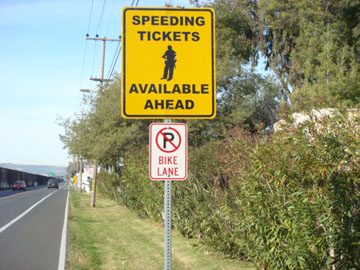 A police officer will be waiting for you ahead to issue you a speeding ticket.It is a warning sign.This straight street runs parallel to Highway 101.Although nobody wants such a violation ticket, quite many people tend to speed on the street.
3.Caution Duck Xing
200 Marine Parkway, Redwood City, CA 94065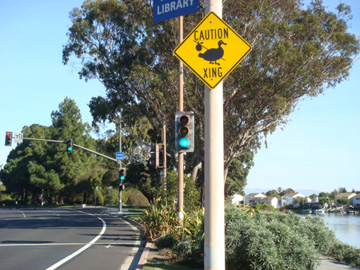 People are not the only ones who cross roads.This area has waterways and hundreds of Canada geese live here. Similar signs of geese crossing are put up here and there.When tens of geese are crossing a divided road having three lanes each way , cars need to stop in all lanes and wait for their crossing over even in a busy morning commute.
4.Dirty empty building
1001 Howard Street, San Francisco, CA94103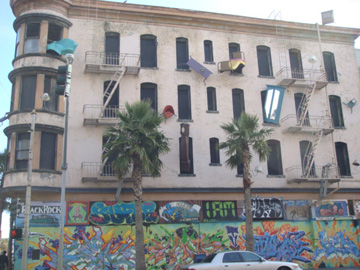 The walls of the first floor are filled with graffiti of unknown meaning. Wardrobe and sofa, and bathtub are half out of the windows. Colorful chairs, tables, and nightstands stick to the walls. Such furniture adorns the second through the fourth floors. Nobody knows whose work this art is. This empty building itself becomes a work of art.
5.Golf Cart Lane
7050 Del Webb Boulevard, Roseville, CA 95747
More than five thousand people live in this senior community. Its 16.25 square kilometer of land has a golf course. In the community, a golf cart is utilized not only during playing golf. The easy driving and moderate speed makes risk of accidents lower and elderly people choose it as alternative transportation method instead of cars. They are legally allowed to go to churches, restaurants, and supermarkets in and adjacent to the community.A golf cart lane is added to a bicycle lane in the community.