36.Bicycle Rack
502 Main Street, Half Moon Bay, CA 94019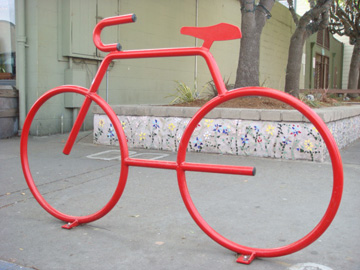 The bike shaped racks in red and green are put along the main street. When you go to shops or restaurants along the street, you can park your bike with a chain locked to the rack. Even without using the rack feature, it is an interesting object itself.
37.Vegitables growing on the wall
645 Correas Street, Half Moon Bay, CA 94019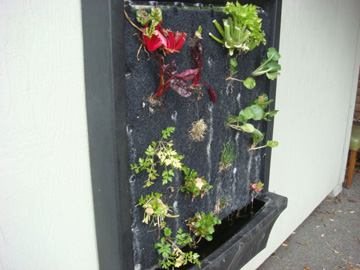 It's a vegetable garden on the wall. Water seems to flow regularly from the top through the base and vegetables grow happily. Celery, chives, and herbs have been growing. How about the wall garden idea for residents living in limited space in urban areas?
38.Commercial Painting
1101 Geary Boulevard, San Francisco, CA 94109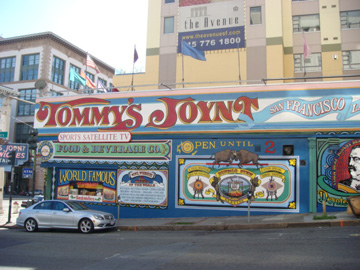 The pub serves a variety of drinks and cafeteria style meals. It has been operated by the same owner since its opening in 1947. The eye-catching commercial painting and wording are on the entire wall facing the streets. It can't be missed.
39.Child Shopping Cart
270 Redwood Shores Parkway, Redwood City, CA 94065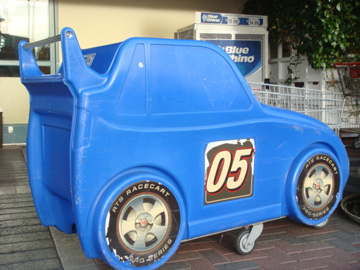 It's a shopping cart for a mother with a child. A child can sit in comfortably between a handle a mother pushes and its front basket. A Mother can do necessary shopping easily since a child has fun as if he/she rides a go-cart.
40.Tatto Expo
2575 East Bayshore Road, Redwood City, CA 94063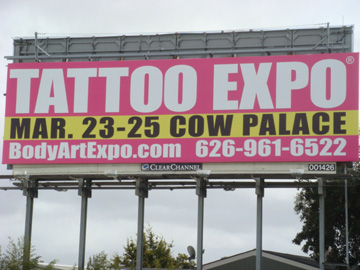 A Tattoo is far from a fashion statement and does not give a very good impression in Japan. America, where a tattoo expo is held, has the completely different definition and tattoo is a sense of art.