31.Nihongo sign
1707 Buchanan Street, San Francisco, CA 94115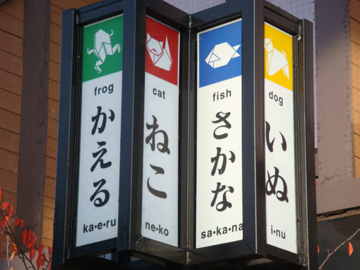 Along with the word in English, a picture of origami, hiragana, and its reading are displayed like Japanese playing cards. These signs stand in the square in San Francisco Japantown. When you see them each time you pass through the square, you will naturally remember the Japanese words.
32.Share the Love
2456 Telegraph Avenue, Berkeley, CA 94720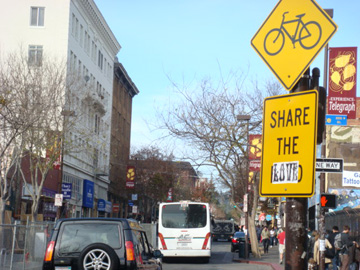 The original sign says: let's share this "road" with bicycles. Someone changed "road" to "love". If everybody walking around here shares their love with everyone else, this world will become a happier place.
33.Tile Sign
1430 Montgomery Street, San Francisco, CA 94133
From Coit Tower standing on the hill overlooking the San Francisco Bay and the city, when you walk down staircases towards the east, you will find the stylish sign made of tiles. Going down the steps following the sign leads you to a space with crafted tile figurines surrounded by tall trees.
34.Old Ship Saloon
298 Pacific Avenue, San Francisco, CA 94111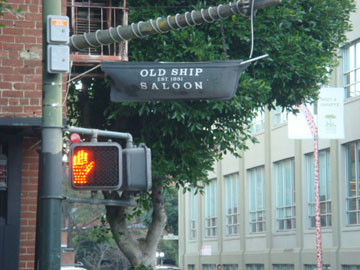 A ship is hanging on a sail supporting a pole sticking out on the corner of Pacific Avenue and Battery Street. It's the sign of the Old Ship Saloon with history dating back to 1851. When you come nearby, you will hardly miss it.
35.$1 Bill
1202 Sutter Street, San Francisco, CA 94109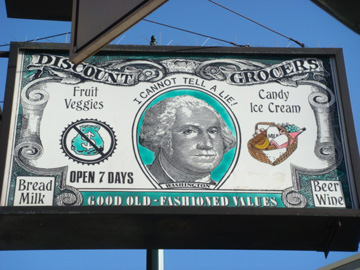 A sandwich shop has the sign on the eaves. The sign content indicates that the shop was previously a mini mart. President Washington printed in $1 bill along with his quote "I can't tell a lie." tells you that you will be able to buy a variety of items with just one dollar. As it is an interesting sign, the owner seems to keep it as is.